Youth Classes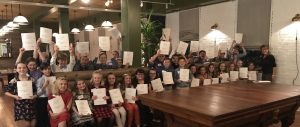 Four over forty years, Ann Cherry has been sharing Everyday Etiquette with thousands of youth. Our youth classes are the perfect setting for gentle instruction in the art of introductions, common courtesies, thank you notes, and informal and formal table manners. All complete with a dining tutorial.
With an emphasis on Continental & American style dining, Mrs. Cherry teaches why manners are important versus reciting rules. Classes are fun and ensure a tradition of civility will remain among today's young people and beyond.
---
Pass the Manners, Please! Dining Skills Class
Registration:
Registration for the March 28, 2023 class may be printed using the form: 2023 Pass the Manners, Please! Registration
Enrollment is limited and based on the order in which registration forms and payments are received. Also, note, one parent is required to attend.
Tuition:
Please note that no fees are refundable 5 days prior to scheduled class. Registration forms should be submitted with payment (payable to AB Cherry) to: Carolina Protocol, 3500 Lakeview Trail, Kinston, NC 28504.
Cancellation and No-Show Policy
Registration is managed on a first-come, first-served basis with respect to capacity of the venue. Since space is limited, no fees are refundable 5 days prior to scheduled class. No refunds are issued after that time, including those who register and no-show.